Founded in 1989, AULONA LLC is located in Peje and Prizren road axis, available from Albania with two entrances to our city Gjakova, and 90 km distance from the capital of Kosova, Prishtina.
---
AULONA is trained and specialized in performing services with its high-qualified staff, adequate equipment, high-quality raw materials, genuine spare parts, facilities and all the necessary modern infrastructure for repairs of electric devices and production of oil immersed distribution transformers.
AULONA performs these repairing and maintaining services:
Electric circulating and diving pumps           
Various types of electric motors for rated powers up to 400 kW and voltage of 400V   
Welding and puncture appliances  
Generators and alternators
Dry and oil immersed distribution transformers
AULONA has a professional staff with superior, higher and secondary education, with experiences from 5-35 years, which makes it ready in any time and for any request from our market, to accomplish with high quality, very short terms and prices that are at the same level as other genuine competitors.
From a rented workshop in space of 40m² at the very beginning, AULONA in 2012 has archived to build and own a modern facility for repair and maintain various electric elements and for production of distribution transformers from rated power of 50kVA up to 2000kVA.
The newest facility has a working space of 1700m², and administrative space of 420 m².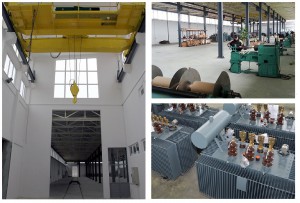 In coordinance with our partners, we have accomplished many major projects in:
Projection, assemble and applying many distributive transformers
Service in assembling and adjusting transformers of 31.5 MVA, 2 of them in Pristina V, and 2 in Podujeva.
Testing, projecting and pre-preparing for transformers repair:

General electric 150 MVA 110/15kV, Ynd5,
T 45, 40MVA, 110/6,3kV transformer
8MVA Transformer
31,5MVA, 110/6,3 kV transformers, 6 of them at Trepca Stantërg.
Research, process, and realization of new transformer placement in Kosovo and Albania market.
We can freely say that we are a decent representative for abovementioned manufacturers while covering all market requests for services and placement of their products.
---