We offer these services:
---
With over 30 years of experience, our company has applied the newest technical-technological trends in the field of electrical machines, repair operations, maintenance, testing and others depending on the aim to be achieved:
reconstruction

overhauling

service

testing
All types of electric machines regardless of use, manufacturer, power, voltage, and insulation class, are repaired. Such equipment already repaired by us are as follows:

synchronous machines
induction machines
direct current machines (with a special stresson on the traction motors, generators, rolling mill motors)
rotating electric devices for welding
static welding machine
electric magnets
absorbers
electric generating sets
rotor and stator starters
adjustable transformers
dry power transformers

Measuring, testing, and starting electromotive plants
---
Troubles regarding electromotor drives are often of multidisciplinary nature. For that purpose, tests are carried out by our qualified teams. On the basic of the performed measuring and expertise, there is provided a concrete solution in order to bring the electric motor plant and transformers into working order. Owing to the latest equipment which we possess, most of the measuring and tests are carried on site with the user.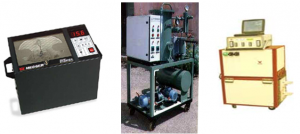 testing of the factor of dielectric loss and capacity
measuring of the insulation resistance
determination of absorption factor
determination of polarisation factor
dielectric strength test
testing of partial discharge
testing on high alternating voltage
heating of stator stack
measuring of vibration and noise
laser centering of the plant
In cooperation with our partner, "Rade Koncar" from Skopje, we make these extra services:
Assembling, completion, filter-dehydration of transformer oil, assembling execution, testing and put transformer to work with rated power of 31.5MVA; while for all the above-mentioned services for transformers with rated power of 220 MVA, we cooperate with ETRA 33 from Ljublana.
---