---
By the year of 2008, Aulona started the production of oil immersed distribution transformers from the rated power of 50kVA up to 1000kVA, and rated voltages from 10kV up to 35kV. This production was established in accordance and cooperation with our Italian partner, by which we were supplied with raw material, semi-finished products, technology and license.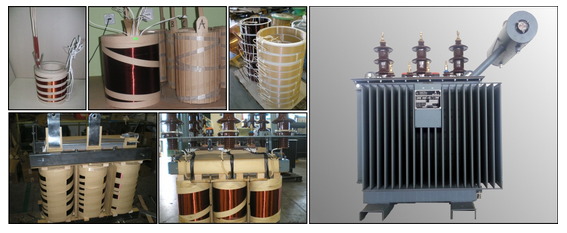 Magnetic core: It is produced from high qualitative magnetic steel with minimal loss of energy. Sheets of magnetic steel are perfectly tied which enables work without noise and high quality of minimal losses in work with or without charge. Core is tied and cramped so that it guarantees stability and no damage during transportation.
Windings: Are produced from round copper wire for HV and from flat copper or from aluminum foil for LV. Round copper wire is from class "F", whereas flat copper is isolated with transformer insulating paper. The core in whole between sheets is isolated with transformer insulating paper, glue and isolated with propane insulator. Spaces between cores are isolated with hard propane insulator or plastic box especially produced for adequate types of transformers.
After mounting the windings into core, it continues into oven for drying which enables total elimination of humidity. Oil filling of transformer is done through filtering and under vacuum pressure machine which puts produced transformer to be under pressured. Spaces between windings sheets are done with canals which enable oil penetration for cooling which enable normal work for transformer in high temperature caused from work or environment temperature. Such isolation without gases is resistant at work pressure and atmospheric conditions.
Bushings: HV and LV connectors are conducted through porcelain insulators which are located on the cover of transformer's tank which are in accordance with DIN 42530 and DIN 42531 standards. Assembly and dismantling of those is easily done with no need of opening the tank. They are assembled and bolted in that way that they prevent oil leakage or movement of any direction that could damage the transformer.
Tank: Is manufactured from corrugated steel, welded with CO2 welder. After transformer is closed, tank is filled with oil which penetrates in tank sides and half of conservator. Transformer is projected in that way that during normal work in tank is formed pressure from 20 up to 25 kPa.
Tank cover is locked up with bolts, sub sheets and nuts. Conservator type transformers are capable of working temperature conditions from -40 ºC to +40 ºC. Tank is firstly isolated with anti-corrosive color and then painted with color which leaks on the tank whereas flattening is done with compressor and all these guarantee paint sheets of 60 microns.
In the bottom of transformer there are wheels mounted which enable movement of transformer in two directions.
For the final product, our professional teams verify the quality of product during the manufacturing process in production phases, electrical measurements, preparing of transformer test report.
For the test report, we apply different testing procedures based on IEC 60076, IEC 60137, IEC 156 and other standards depending on the particular requirements of the client
Based on the above mentioned standards, tests usually applied at our company are:
Testing of oil dielectric breakdown,
Testing of short-circuit currents,
Measurement of winding resistance,
Insulation resistance measurement with separate voltages,
Measurement of transformation coefficient – vector group
Measurement of losses and no-load current,
Proof of isolation with induced voltage at 150 Hz,
Gas protection test – Buchholz relay test
Measurement of all the groundings
Furthermore, our company in cooperation with our partners also offer:
Project, supply and execution of all works for transformer stations completion
Measurements, tests and issuance of attests for transformers
Having contemporary machines with capacity of 1T/h and 6T/h, we perform oil filtering for transformers
Various transportation and assemble services with self-loading truck
In cooperation with "ART-TRA" from Italy, we perform services in: assemble, completion, oil filtering-drying; scrutinize; attestation and putting at work transformers of rated power up to 31.5 MVA; whereas all these services for transformers up to 220 MVA are done in cooperation with ETRA 33 company from Ljubljana.